The Board approved a new Evaluation Policy (EP) for the Fund at its thirty-eighth meeting in April 2022. The new EP will become operational in October 2023, replacing the Fund's 2012 Evaluation Framework. During the transition between April 2022 and September 2023, the AF-TERG is working, in collaboration with the secretariat and the Evaluation Policy Guidance Advisory Group (EPG AG), to develop a series of evaluation policy guidance (EPG) to support operationalization of the new EP.
EPG Development Inception Report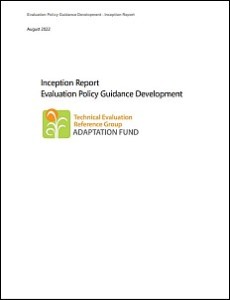 The purpose of this Inception Report (IR) is to demonstrate a clear understanding, as well as a valid and realistic and coherent approach, for the development of fit-for-purpose EPG documents for the Fund. The primary users of this IR are the secretariat and the AF-TERG. Intended secondary users are Fund Implementing Entities. Analysis draws upon three main data sources: a desktop review of background documents, remote interviews, and an online survey.
Given the Fund's ambition to be an innovator and influencer in the climate change adaptation space, it is important that it remains abreast of and responsive to important global trends in evaluation. The urgency for global climate action and rapidly changing contexts for development are challenging evaluation to go beyond conventional methodologies. Evaluation needs to explore alternative approaches that embrace the complexity and ambiguity that characterize the contexts in which CCA is delivered and evaluated.
The Fund is largely aware of these evaluation trends, which are reflected in the new EP. However, it remains unclear if the Fund's awareness extends beyond conceptual understanding to actionable practice. The development of EPG documents and ensuing ECD is an important investment towards this goal.