Adaptation Fund Project Story – Chile
Smallholder farmers in some of the driest, most vulnerable rural communities in the mid coastal and inner O'Higgins Region of Chile who have been increasingly impacted by rain scarcity and droughts in recent years are adapting to climate change by managing water and enhancing their crops in innovative ways.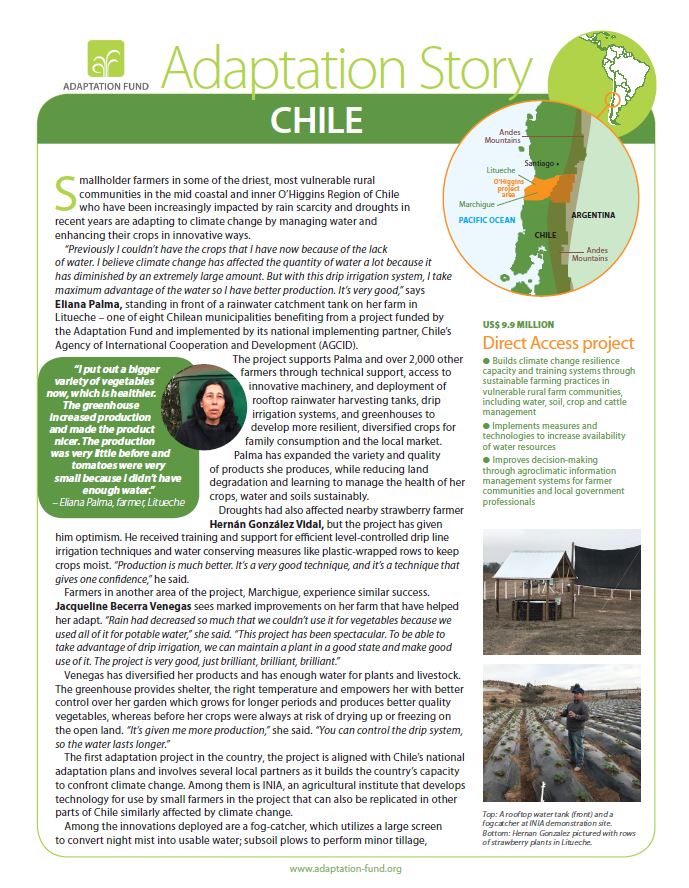 A US$ 9.9 million Direct Access project, implemented by Chile's Agency of International Cooperation and Development (AGCID), is helping over 2,000 farmers through technical support, access to innovative machinery, and deployment of rooftop rainwater harvesting tanks, drip irrigation systems, and greenhouses to develop more resilient, diversified crops for family consumption and the local market. As the first adaptation project in the country, the project is aligned with Chile's national adaptation plans and involves several local partners as it builds the country's capacity to confront climate change.
"Previously I couldn't have the crops that I have now because of the lack of water. I believe climate change has affected the quantity of water a lot because it
has diminished by an extremely large amount. But with this drip irrigation system, I take maximum advantage of the water so I have better production. It's very good," says Eliana Palma, a smallholder farmer and one of the beneficiaries of the project.
Read the full story here.
Attachments