Knowledge Events
The following offers information about past and upcoming knowledge events hosted by the Fund or in collaboration with other institutions.
Upcoming knowledge events
Knowledge fair organized as part of the Adaptation Fund 2021 virtual country exchange hosted by NABARD, India (August, 2021)
Past knowledge events
2021
Knowledge event organized in collaboration with AECID (March 2, 2021)
The Adaptation Fund in collaboration with the Spanish Office for Climate Change acting as the secretariat of the Ibero-American Network of Climate Change Offices (RIOCC) and the Spanish Agency for International Development and Cooperation (AECID) organized a virtual event on March 2 aimed at raising awareness in the LAC region about knowledge tools made available in Spanish by the Adaptation Fund to access adaptation financing through the Direct Access modality. As part of the event, several of the Adaptation Fund NIEs shared experiences and best practices on this process.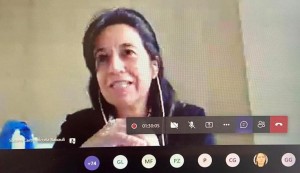 Below you will find the agenda of the event and presentation:
Presentations
Gobeshona Global conference (January 18-24 2021)
The Gobeshona Global annual conference started in January 2021 and lasted seven-day long annual. The focus was on Locally Led Adaptation (LLA) across different geographical regions and was hosted by the International Centre for Climate Change and Development (ICCCAD) virtually. The conference was an opportunity to bring together a distinguished and multidisciplinary group of scholars, policy-makers, researchers and practitioners from around the world to share their knowledge, research, and practical experiences on climate change issues.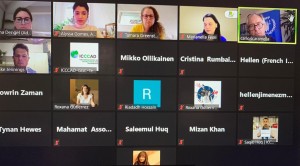 Please find more information on the Gobeshona Global Conference below:
Agenda of the session "Local Leadership in Adaptation Finance: Learning from Locally-led Action in Adaptation Fund Projects and Programmes"
Presentations
2020
Knowledge fair as part of the Adaptation Fund 2020 virtual country exchange hosted by Senegal (December 2020)
Senegal hosted the second country exchange visit. In the context of the health crisis due to the Covid-19 pandemic, the exchange visit was held virtually in the premises of the Ecological Monitoring Center (CSE) in the form of a webinar. The objective of this virtual exchange visit was to share Senegal's experience in the fight against coastal erosion and disaster risk reduction based on CSE's Adaptation Fund funded project: Adaptation to coastal erosion in vulnerable areas and a second World Bank project titled: Coastal risk monitoring and soft solutions in Benin, Senegal and Togo which was financed with a contribution from France through the French Environment Fund.
The third and final session of webinars of the country exchange was held on Thursday, December 10, 2020 which was in the form of a knowledge exchange between participating NIEs and the NIE hosting the event. The webinar involved exchanges of experiences between NIEs in terms of the design and implementation of projects financed by the Adaptation Fund and the presentation of the documentary film produced by the Centre de Suivi Ecologique (CSE).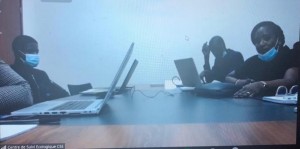 Report for 2020 country exchange in Senegal
Lessons learned from the Senegal country exchange