Adaptation Fund Project Story-Rwanda
Rural farmers disproportionately affected by extreme rainfall, flooding, erosion and landslides, as well as drought in recent years have seen their lives, homes, livelihoods and food sources placed at risk.
Rwanda's high population density combined with its reliance on rain-fed agriculture means that the predominantly rural population is increasingly farming smaller and smaller plots of land. The large number of people farming on Rwanda's hilly and mountainous terrain has led to serious environmental degradation due to overexploitation of the soil and extensive erosion. The Mugogo lowlands had even become a lake due to persistent floods, leaving farmers awash without land to cultivate.
"Reducing Vulnerability to Climate Change in North West Rwanda through Community Based Adaptation" is a US$ 10 million project, funded by the Adaptation Fund and implemented by the Rwanda Ministry of Environment, that has resulted in a positive and visible transformation among highly vulnerable communities in northwestern Rwanda.
Adaptation measures such as bench-terracing, afforestation and de-silting of underground drainage channels or caves have reduced erosion and restored natural drainage syste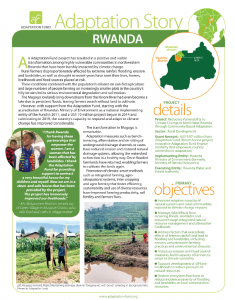 ms, allowing the watershed to function in a healthy way. Promotion of climate-smart methods such as integrated farming, agrosilvopastoral systems, inter-cropping and agro-forestry that foster efficiency, sustainability and use of diverse resources have improved farming productivity, soil fertility and farmers' lives.
"Now we are in a clean and safe house that has been provided by the project. The project has immensely improved our livelihoods," says Ms. Mukanoheri Beatrice, a beneficiary of the Green Village in Musanze District, who sells food and crafts in the village market.
Please see the full story here.
Attachments