Andean and African climate projects aim to reap benefits of regional collaboration
Regional projects improve efficiency and create learning opportunities
The Andean region is vulnerable to trends in precipitation, temperature and climate variability due to the El Niño-Southern Oscillation phenomenon, which has become more frequent in recent years, burdening communities already suffering from high levels of inequality.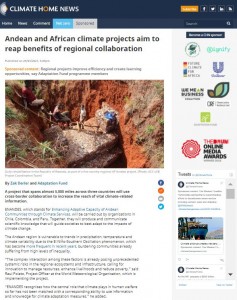 A project funded by the AF that spans almost 5,000 miles across three countries will use cross-border collaboration to increase the reach of vital climate-related information.
ENANDES, which stands for Enhancing Adaptive Capacity of Andean Communities through Climate Services, will be carried out by organisations in Chile, Colombia, and Peru. Together, they will produce and communicate scientific knowledge that will guide societies to best adapt to the impacts of climate change.
Read the full article published in Climate Home News.