Yerevan, Armenia's capital city, with Mount Ararat in the distance (Photo: Ogannes/Flickr)
Armenian project aims to digitally engage future climate leaders
A climate education app for Armenian high school students is one example of innovation supported by the Adaptation Fund
Armenia's Ministry of Environment is aiming to create a digital climate education platform for over 30,000 high school students, as part of a wider effort to increase future resilience.
Led by the Environmental Project Implementation Unit (EPIU), the programme is still in its early stages, but has plans to influence young people in engaging with the climate adaptation space, through a number of participatory actions.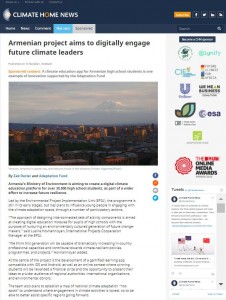 At the centre of the project is the development of a gamified learning app compatible with iOS and Android, as well as an online contest where winning students will be rewarded a financial prize and the opportunity to present their ideas to a wider audience of regional authorities, international organisations, and environmental donors.
The project has been funded through a set of new grants under the Adaptation Fund's Innovation Facility, specifically tasked with developing a broad range of innovative projects through targeted financing.
Read the full article published in Climate Home News.