Document Summary
The Gender Policy and Action Plan of the Adaptation Fund adopted in 2016 aims at mainstreaming equal access to all Fund projects and programmes among women and men, while building their resilience and capability to adapt to climate change impacts.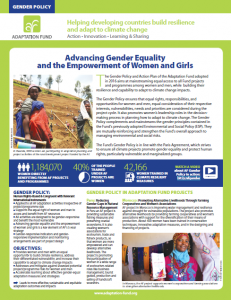 The Environmental and Social Policy (ESP) of the Adaptation Fund ensures that projects and programs supported by the Fund promote positive environmental and social benefits and mitigate or avoid adverse environmental and social risks and impacts.
Learn more about the Adaptation Fund's Environment, Social and Gender Policies here.
Document code:
AFB/P/Gender, Environmental and Social Policy
Attachments
| Attachment | Type | Size |
| --- | --- | --- |
| English | PDF | 2 MB |