Winners of Adaptation Fund Photo Competition Announced
(Doha, Qatar _ November 30, 2012) _ The Adaptation Fund has announced the winners of its 2012 photo competition. The theme of this year's contest was Food and Agriculture and entrants were encouraged to depict "the various ways in which individuals and communities in developing countries are adapting to climate change in the food and agricultural sectors."
The winners were announced at the United Nations Framework Convention on Climate Change negotiations at the Adaptation Fund side event in Doha on Friday, November 30. They were selected by a five-member jury of distinguished photography professionals from around the world: Mr. Pedro Armestre, Photographer; Ms. Alexandra Garcia, Director of Operations for the International League of Conservation Photographers; Ms. Karen Kasmauski, Photographer; Dr. Samuel Sidibé, Directeur Général of the Musée National du Mali; Mr. Andrew Smith, Photojournalist and Lecturer, University of Technology, Jamaica.
---
First Place: GREENHOUSES FOR ADAPTATION by IHSAN ILZE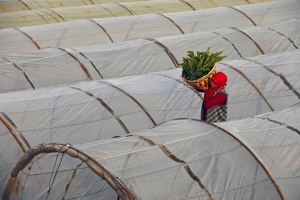 Greenhouse gases and climate change creates one of the important factors threatening Erzurumda, Turkey. Here, the cold climate often damages crops. Greenhouse agriculture is a cheap, but not yet common solution that may be preferred in the future in order to protect the crops.
---
Second Place: STRAWBERRY PICKERS by ANTONIO PEREZ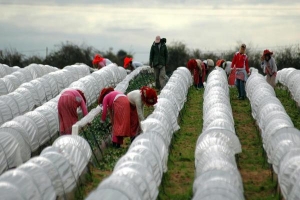 A large part of the Morrocan Rif suffers from significant rains in winter, which have risen with the passing of time, causing floods to putting crops at risk. The use of greenhouses lets producers to improve production of fruits such as strawberries, allowing them to be competitive with European producers. The use of greenhouses allows the productivity of the soil to be maximised, even during fallow season. The whole area is broadening its horizons towards economic sustainability, and the strawberries are incredible.
---
Third Place: LIVELIHOOD SUPPORT IN A CHANGING CLIMATE by SIMON GOLDS
Threshing rice provides a valuable livelihood in economically depressed rural areas in Tanzania. A project to expand, rehabilitate and improve the water and irrigation management for a rice farm in Dakawa Village, Tanzania will protect and enhance the water supply to the rice fields on which many local communities rely for economic development, livelihoods and food security in this climate-vulnerable part of Africa. The project, funded by US-AID, will create more such livelihoods and enable rice cultivation to continue and be resilient in the face of climate stress.Location: Dakawa Rice Farm, Dakawa Village, Mvomero District, Tanzania, Morogoro Region Date: 25th August 2011
---
People's Choice Winners:
The voting for People's Choice was fierce, with dozens and dozens of responses sent in via facebook. Ultimately, the prize went to the following two photos, each of which attracted numerous supporters.
THE KEY TO CLIMATE CHANGE ADAPTATION by ADIL MOUMANE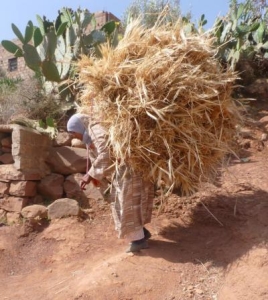 The women living in southeast Morocco are the key of adapting to climate change. To search for water and food and grass to feed their sheep women have to walk long distances under the heat of the noon sun . This is all in addition to the work women have to do farming and in the home. The determination of the women from southeast Morocco and their patience to endure long droughts has allowed the people of southeast Morocco to adapt to the changing climate and to stay in their land and not migrate and abandon their land to desertification.
FARMING RICE AND FRUIT by KUNTAL SINGH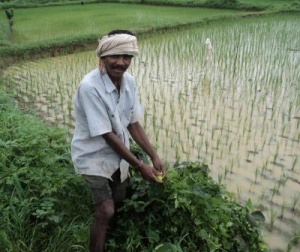 The Mandla district in the state of Madhya Pradesh, Central India, has lately been seeing erratic rainfall for past few years especially in pre-shower monsoon which is required to prepare fields for paddy cultivation. Apart from this, winters have been extreme and cases of frost have increased severely damaging winter crops. Some farmers have even given up growing winter crops owing to huge losses icnurred due to their destruction. In addition to using a new rice planting technique to increase yields, a farmer shows a fruit planted in the bunds while his paddy field planted using SRI technique is flooded with water. Plantation on bunds is seen as an effective step to increase the income of rural India as well as maximizing the benefits from a limited tract of land. SRI results in significant increase in the yield of paddy fields from the same tract of land which was earlier sown using traditional approach. This could counter to some extent the negative impacts of climate change on crop productivity. In fact good yield in summers (using SRI technique) can help them earn sufficient income to compensate the loss they incur in winters.