Women beneficiaries of a Self-Help Group (SHG) nurturing the summer crops in a float-farm in Amtoli village in Sundarbans. 72 members in eight SHGs manage and maintain 60 float-farms in Amtoli, which is now turning into a women's cooperative. (Photo by South Asian Forum for Environment, SAFE)
[Project Story] Adaptation Fund in India: Floating Farms Turning the Tide in India
Local farmers are taking their farming to the water, on floating farms, to improve food security while adapting to rising water levels through an innovative project in the vulnerable Sundarban region of India.
The climate resilient, adaptive agro-farming practice, successfully piloted in parts of India and Bangladesh, is being scaled up by a project funded by the Adaptation Fund in the climate vulnerable areas of the Sundarbans — a biodiversity-rich World Heritage site of India that is facing the brunt of seawater ingress and flooding due to coastal storm surges.
Deepali Auliya, a 35-year-old woman farmer who lives with her two kids in Tipligheri village of the Sundarbans, recalls how cultivating vegetables was one of the least feasible activities during heavy rainfall or cyclone situations as her small farmland would get submerged in saline water. This forced her to go out to look for work as a casual labourer.
Many farmers like Deepali living in the Sundarban region have been facing climate change impacts over the years. Extreme weather events and the devastating impacts of cyclones have only worsened in the last few decades. The frequency of storms has increased by 47% in the last decade alone. Sea-level rise has been increasing at the rate of 3.02 cm a year and is amplifying risks such as flooding, storm surges, saline water intrusion, and coastal erosion. But the project is making inroads in reducing such risks. After super-cyclones Amphun in 2020 and Yaas in 2021, the total damage in Sundarbans was devastating, but estimated loss in the project area was less than 10% .
The Sundarbans is also home to the largest mangrove ecosystem in the world. However, mangrove forests are constantly being altered by the erosional forces of the sea and wind along the coast and by the enormous loads of silt and other sediments that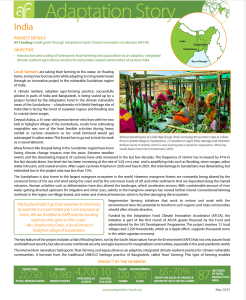 are deposited along the myriad estuaries. Human activities such as deforestation have also altered the landscape, which accelerates erosion. With considerable amount of river water getting diverted upstream for irrigation and other uses, salinity in the mangrove swamps has moved further inland. Conventional farming methods in the region are tillage-based, and water and chemical-intensive, which is further damaging the ecosystem.
However, regenerative farming initiatives, like those applied in the project that work to restore and work with the environment have the potential to transform such regions and help communities rebuild after climate disasters.
Funded by the Adaptation Fund Climate Innovation Accelerator (AFCIA), the initiative is part of the first round of AFCIA grants financed by the Fund and administered by the UN Development Programme. The project involves 12 local villages and 2,200 households, which as a ripple effect, supports thousands more in the wider agrarian economy.
Read the full story here.