Just a few years ago, the beach at Saly Portudal, in Senegal, was filled with tourists lounging under grass umbrellas, footballers playing pick-up games, and fishermen unloaded their catches, but today the coastal community in Senegal is one of countless coastal communities around the world that are suffering from sea-level rise and the other negative effects of accelerated climate change. After the beach was submerged, the largest tour operator in the Senegalese village departed and hotel room prices fell. As the number of tourists dwindled, so did the household incomes of Saly Portudal's many local craftsmen. Erosion and salt-water flooding has destroyed rice fields, damaged docks and buildings, and caused silt buildups that hamper transit between rivers and the sea.
The project, which encompasses the areas of Rufisque, Saly, and Joal, aims to protect people, houses, economic and cultural infrastructure in the region against coastal erosion. In Rufisque, work is being done on an update on the detailed technical feasibility studies for the design of coastal protection facilities and the achievements of those tasks; the validation of the feasibility studies; achievement of the infrastructure of protection; and the cleaning up of canals and connection with the sea. In Saly, the project is setting up protection facilities in the vulnerable areas where hotels, people and poor villages, as well as fishing docks are located. In Joal, the focus is on protecting against salination in the rice-growing areas, coastal infrastructure for processing activities, conducting Environmental Impact Assessment studies, and the monitoring of the implemented Environmental and Social Management plan. Other goals for Joal include an anti-salt barrier, strengthening of protection and development of the beach and fish smoke kilns, as well as the strengthening of environmental assessment awareness and training.
Across all three project sites, the aim is to develop regulations that encompass adaptation, the revision of the environmental code, the adoption of the law on the littoral, and helping local people better understand adaptation techniques to climate change in coastal areas and about the importance of respecting regulations for the management of littoral zones.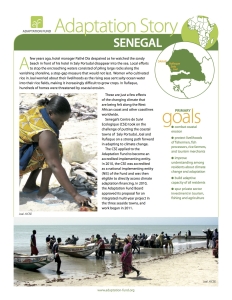 Learn more
| | |
| --- | --- |
| Project Component 1: Rufisque (including travel and workshops) | USD 2,535,000 |
| Project Component 2: Saly (including travel and workshops) | USD 2,730,000 |
| Project Component 3: Joal (including travel and workshops) | USD 1,950,000 |
| Project Component 4: Regulations (including travel and workshops) | USD 220,000 |
| Project Component 5: Information/Sensitization/Training/Communication (including travel and workshops) | USD 415,000 |
| Project Component 6:  Follow-up/Evaluation/Monitoring (implies the payment of the responsible in charge of the follow-up) | USD 350,000 |
| Total Project Cost (execution included) | USD 8,200,000 |
| Centre di Suivi Ecologique Project Cycle Management Fee | USD 419,000 |
| Grant Amount   | USD 8,619,000 |
Project Documents