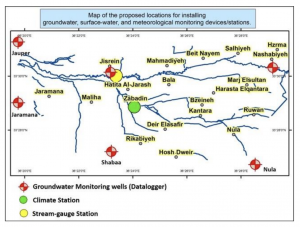 The Syrian Arab Republic is highly vulnerable to the effects of global warming and climate change in its various dimensions. This is manifested in various climatic phenomena, but alarming are the increasing temperatures and droughts, already in the short term, and projected reduction of precipitation, mainly in the long term. The effects of these climatic phenomena impact all social and economic sectors and represent a threat to livelihoods, agricultural productivity, water availability and community health. The crisis has exacerbated these threats, since it led to a weak and deteriorating adaptive capacity resulted from damaged infrastructure, limited institutional capacity, rapid resettlement of displaced people, returnees and high level of poverty.
This project aims to reduce vulnerabilities to water availability challenges in one of the most vulnerable areas in Syria: Eastern Ghouta. To manage water and land resources efficiently, also considering future climate change risks and population trends in this area, an integrated natural resource management strategy will be developed.
Complementing the strategy, the proposed project will directly build the resilience of selected communities though the implementation of concrete no-regret adaptation activities including the treatment of wastewater which is currently pollution water resources in the area and the establishment of water efficient irrigation systems.
| | |
| --- | --- |
| Project Component 1: Integrated natural Resource Management to cope with climate change and crisis related water challenges | USD 1,748,095 |
| Project Component 2: Establishment of efficient, sustainable and climate change resilient water supply systems for urban and agriculture purposes | USD 4,566,916 |
| Project Component 3: Establishment of efficient, sustainable and climate change resilient irrigation systems and agriculture practices and security of income | USD 2,179,439 |
| Project execution cost (including M&E) | USD 719,519 |
| Total project cost (execution included) | USD 9,213,969 |
| UN-Habitat management fee | USD 783,187 |
| Grant Amount  | USD 9,997,156 |
Project Documents