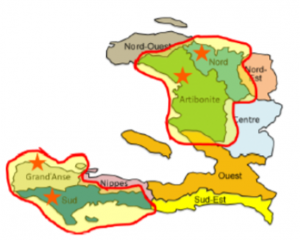 Disasters have a major impact on children, youth and education systems. In January 2010, approximately 38,000 students and 1,300 teachers and education personnel died in Haiti. The Ministry of Education offices were destroyed along with 4,000 schools – close to 80 % of educational establishments in the Port-au-Prince area. In 2016, hurricane Matthew struck Haiti and caused significant physical damage to Haiti's education sector. On average, one school out of four was damaged. Many of these schools are still used as temporary shelter, or as evacuation shelters.
The aim of this project is to enhance the adaptive capacity and resilience of the Haitian education sector to disaster risk of natural hazards related to climate change, through the establishment of appropriate risk assessment tool, schools retrofitting and implementing adaptation actions in Haiti.
The project promotes and adopt innovative, structural and non-structural resilient resolutions. More specifically, this project is intended to strengthen the resilience to hurricane and flood of the Haitian education sector by:
Improving the national comprehensive knowledge of exposure and physical vulnerability of school facilities and decision-making process of intervention in Haiti;
Strengthening school safety by promoting rehabilitation, retrofitting or reconstruction on selected schools and risk management protocols for schools;
Enhancing the capacity and awareness of the local population and civil protection stakeholders in risk management at national and local levels.
The project expects to benefit about 1.5 million people living in the communes through the school project assessment and about 150,000 students.
| | |
| --- | --- |
| Project Component 1: Assessment of school facilities by VISUS methodology | US$ 612,470 |
| Project Component 2: School adaptation and safety Improvement | US$ 6,230,871 |
| Project Component 3: Enhancement of climate resilience of social community through the educational sector | US$ 1,311,199 |
| Project Component 4: Project's outcomes assessment | US$ 160,260 |
| Project execution cost | US$ 867,000 |
| Total project cost | US$ 9,181,800 |
| UNESCO Project Cycle Management Fee | US$ 734,544 |
| Grant Amount | US$ 9,916,344 |
Project Documents