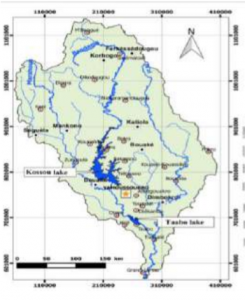 Climate change and climate variability is already affecting rainfall and temperature patterns in Côte d'Ivoire, eventually leading to decreasing water availability. Agricultural productivity is therefore expected to decrease because of increased temperature and more frequent precipitation extremes. The projected increase in dry spells could also lead to reduced availability of water for irrigation during the dry months of the year. As a consequence of changing patterns and more frequent extreme events, the overall stability of production and external supply, as well as incomes from agricultural activities could be reduced by future climate change.
The project proposes the implementation of a set of concrete adaptation interventions targeted to 3 profitable agricultural production systems (rice, cassava and cocoa) in the Bandama basin. The project will support the provision of data, information and knowledge to support decisions taken by farmers in choosing appropriate adaptation measures combined with direct support through extension services to ensure rapid adoption and scaling-up to the largest number of recipients. The project will also address the enabling environment by looking into the optimum institutional setting and collaboration from Ministries down to farmer organizations.
The project intends to reduce the projected direct effects of the negative impacts of climate change on 15,600 smallholder farmers including 5,000 rice producers, 5,600 cassava producers and 4,000 cocoa producers, 1,000 from other enterprises/cooperatives of which at least 45 % will be women and 40 % young people; and indirectly benefiting 93,600 beneficiaries  (45% will be women) through improved regulatory systems, increased access in climate resilient planting materials, and better access to market and other downstream effects.
| | |
| --- | --- |
| Project Component 1: Climate Information and early Warning Systems (CIEWS) for adaptive capacity building, planning and programming in agriculture coupled with a knowledge base on innovative climate smart agriculture practices/innovations | USD 1,009,000 |
| Project Component 2: Climate-proofed agricultural production and post-harvest combined with livelihood diversification | USD 3,628,652 |
| Project Component 3: Institutional capacity building, policy engagement and knowledge management | USD 783,871 |
| Project execution cost (including M&E) | USD 108,431 |
| Total project cost (execution included) | USD 5,529,954 |
| IFAD management fee | USD  470,046 |
| Grant Amount  | USD 6,000,000  |
Project Documents