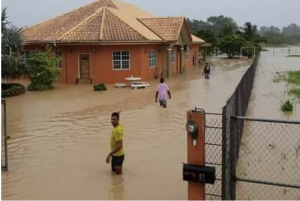 Traditionally, flooding in the South Oropouche River Basin (SORB) from high intensity, short duration storms occur about ten times each year. However, in the last five years, basin-wide floods with high water depths, taking several days to subside, have been occurring almost annually. These floods cause major disruption to the productive sector and the populated centers, and frequently result in loss of personal property. Losses are estimated at between USD 19 – 36 million per year at the country level, depending on the climate scenario.
Climate change will exacerbate the problems that currently exist in the basin, with the confluence of various economic activities in the same territory (agriculture, fishing, commercial, oil and gas production), the poor condition of the drainage systems, and the pressures of major urban growth in the area in recent years. The riverine system is especially susceptible to the effects of climate change, including the threats of saline intrusion which affects both flora and fauna.
The SORB area has been prioritized by the country because of the chronic flooding issues that occur even in periods of moderate rainfall, it is a region of high population density and agricultural and commercial activity, and thus disruption and economic losses are significant.
This project aims to increase the resilience of the South Oropouche River Basin's population and ecosystems to flooding, sea level rise and expected increasing water deficit events. The proposed activities will strengthen territorial planning and risk management, will promote investments for enhancing water infrastructure, EbA measures in vulnerable and coastal ecosystems, increase the adaptive capacity of vulnerable farmers and fisherfolk to diversify and strengthened their livelihoods, and raise awareness, build capacities, and mobilize the stakeholders of the SORB towards climate change resilient actions that account for gender justice.
The expected total number of beneficiaries sums up to 197,540 beneficiaries, since some of the expected investments such as the expanded hydrometeorological information network and improved flood emergency response plans, which will incorporate the information of developed flood risks maps will indirectly benefit the whole basin population. In terms of direct support to increase adaptation capacities with direct adaptation concrete solutions or capacity building, the Project will reach 9,758 community members, being 50,1% women. Furthermore 679 people will avoid a decrease in income due to the diversified livelihood options supported by the Project. Additionally with the intervention 175 ha. of key coastal and wetland ecosystems in the Godineau Swamp will be rehabilitated coupled with 17.5 ha which will be improved due to sustainable production practices.
| | |
| --- | --- |
| Project Component 1: Strengthening of Territorial Planning and Risk Management | US$ 2,232,00 |
| Project Component 2: Green and grey infrastructure enhanced to increase resilience to floods and droughts | US$ 3,425,137 |
| Project Component 3: Vulnerable coastal and wetland ecosystems of the SORB enhanced | US$ 1,440,675 |
| Project Component 4: Increase adaptation capacity and diversify livelihoods of vulnerable farmers and fishers to respond to increased climate risks | US$ 975,270 |
| Project Component 5: Stakeholders of the SORB have built their capacities and are aware of climate risks | US$ 285,900 |
| Project execution cost | US$ 857,608 |
| Total project cost | US$ 9,216,590 |
| CAF Project Cycle Management Fee | US$ 783,410 |
| Grant Amount | US$ 10,000,000 |
Project Documents