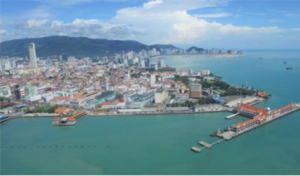 The main goal of the programme is to enhance urban resilience and reduce human and ecosystem health vulnerability to climate change impacts and extreme weather events by implementing nature-based solutions (NbS) to reduce surface temperatures and storm water runoff, as well as to increase social resilience and build institutional capacity.
George Town and Bayan Lepas, the two sub-districts or mukims in Penang have been selected based on a combination of their likely climate change impacts, land use and community vulnerabilities.  The goal of the adaptation programme in these two districts is to use NbS to:
1) reduce climate change impacts (increased temperature and stormwater) including threats to human life, infrastructure and property associated with extreme weather events; and
2) strengthen social resilience and institutional capacity.
The projects aims to benefit 343,739 directly and 311,257 indirectly. The project will also installed an early warning system. In addition, the programme includes a community-focused approach as well as a strong knowledge transfer component to ensure the methodology can be scaled and adopted in the near future by other cities in Malaysia and the region.
| | |
| --- | --- |
| Project Component 1: Adaptation to the urban heat island effect through urban greening | US$ 3,175,000 |
| Project Component 2: Built projects for storm water and flood management | US$ 2,725,000 |
| Project Component 3: Comprehensive vulnerability / baseline assessment and action plans in targeted communities | US$ 160,000 |
| Project Component 4: Strengthening social resilience | US$ 975,000 |
| Project Component 5: Institutional capacity and knowledge transfer platform | US$ 1,381,977 |
| Project execution cost | US$ 799,613 |
| Total project cost | US$ 9,216,590 |
| UN-Habitat Project Cycle Management Fee | US$ 783,410 |
| Grant Amount | US$ 10,000,000 |
Project Documents