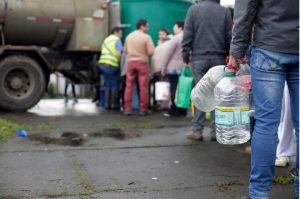 The project focuses on improving safe access to water under emergency situations by sourcing the most appropriate and cost-efficient existing solutions under a competitive system.
The aim is to develop urban points for water distribution that can function under a catastrophe and are easily replicable in other parts. These facilities will allow emergency cistern trucks to discharge, and supply the local population in a safe and efficient manner, while assuring the quality of the resource. The project considers the integration on each point of a publicity screen/ interactive billboard that allows to implement an awareness campaign, sensitizing future users on a more sustainable use of water and a better management under shortages.
The project will deliver this objective through two components:
Improve urban distribution/accumulation of water during emergencies;
Promote innovation and sensitize local community on efficient use of water.
Project Documents