Climate Smart Integrated Rural Development Project in Ethiopia works with local farmers. (Photo: AF's national implementing entity in Ethiopia, Ministry of Finance and Economic Cooperation)
Scaling up: How the benefits of adaptation funding can be multiplied
Projects in Samoa and Ethiopia show how access to adaptation funding can build more climate resilient communities in the long term
As part of a Small Island Developing State, it is already at serious risk from sea-level rise, which increases the risk of flooding and coastal erosion, as well as the impact of more frequent and intense tropical storms, more rainfall and higher temperatures.
But work supported by the Adaptation Fund shows that with the right skills, money and support communities can shore themselves up against these changes – with much wider and longer lasting impacts.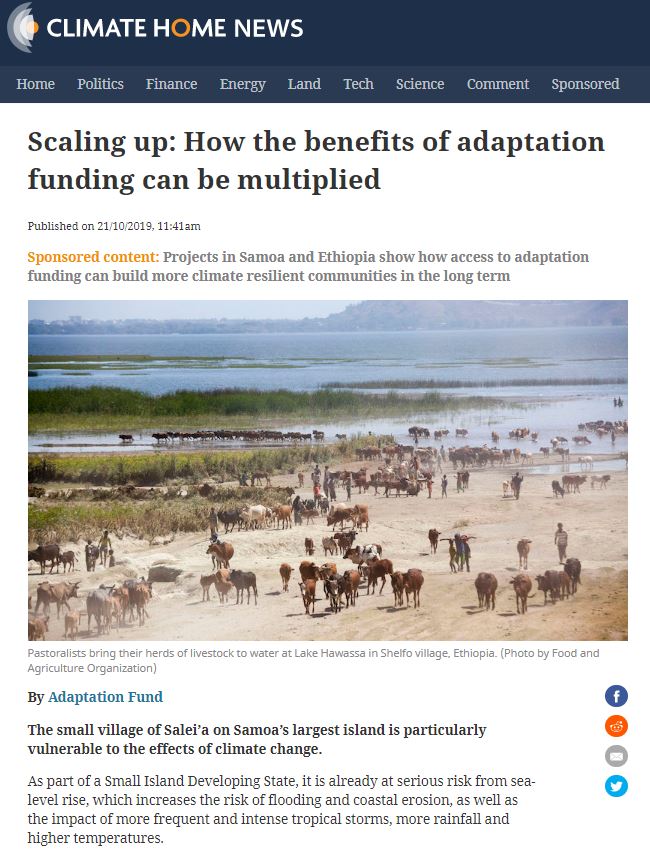 A new revetment wall – a sloping structure that absorbs energy from the water – and a higher bridge have now been built on Salei'a, providing safe daily access to and from the village for residents and the general public, and an essential escape route during disasters.
Since it was launched in 2007, the Adaptation Fund has supported projects in many different parts of the world, each with different geographies, socioeconomic backgrounds and adaptation problems.
The project was funded through the UNDP by the Adaptation Fund, an international body set up under the Kyoto Protocol to help developing countries adapt to the harmful effects of climate change. It has also been formally serving the Paris Agreement since January of this year, following a key decision by Parties at last year's UN climate conference in Poland. It is one of the only multilateral funds funding concrete climate adaptation projects on the ground for the most vulnerable communities, making an important contribution to the goals of the Paris Agreement and the UN Sustainable Development Goals.
Read the full story here.