Adaptation Fund Innovation Days – Day 2
October 4, Wednesday
Room 520F, Montreal Convention Centre
13:30 – 14:30 Session 3. The Innovation Process: How is it done?
Session #3 Highlights: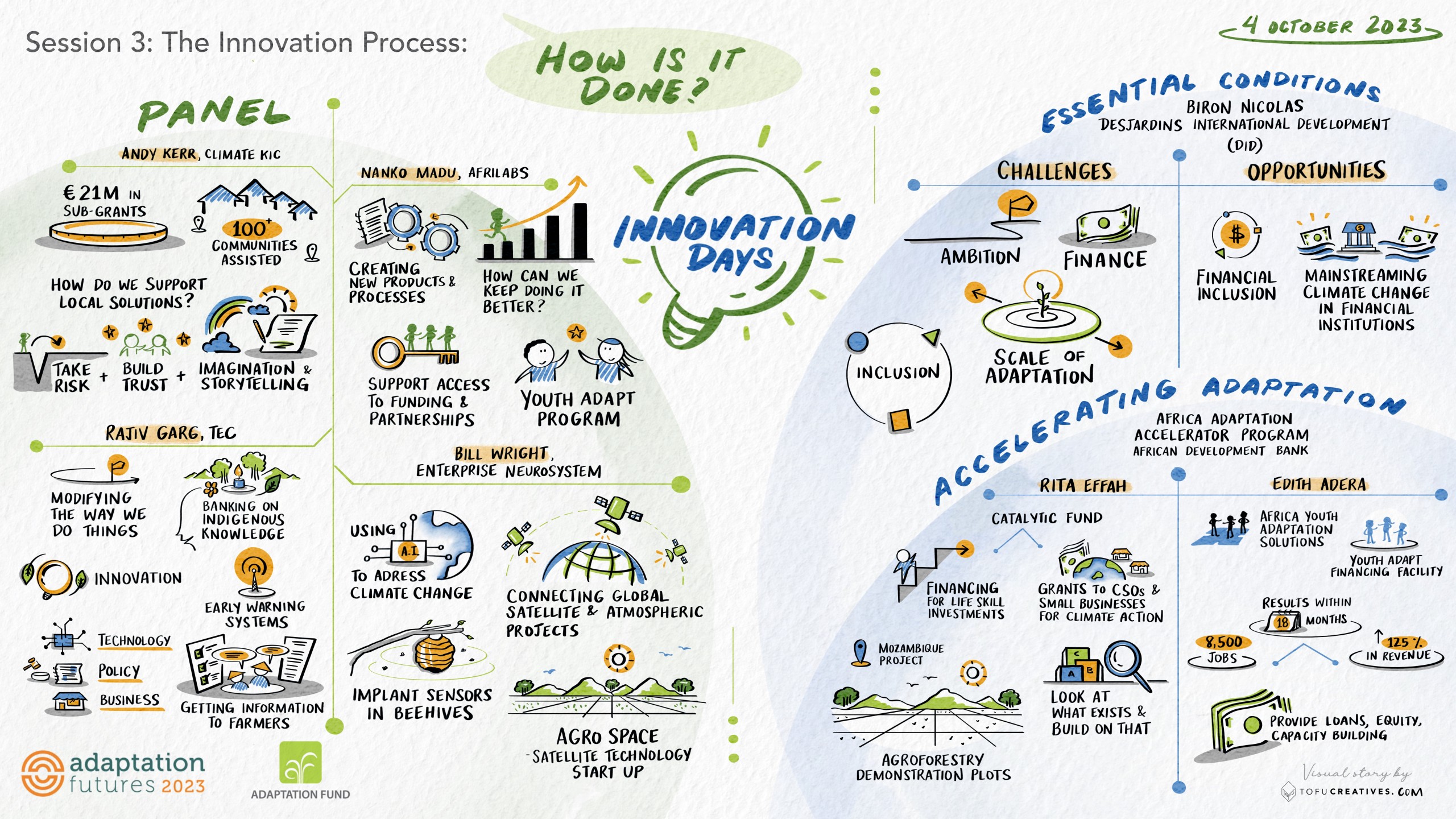 Session Recording available here.


Innovation is a process that drives advancements in all spheres of society and economy involving a range of stakeholders that must collaborate to serve today's and tomorrow's needs. There is a greater demand than ever for integrated solutions that can respond to complex societal challenges. As such, there are certain well-understood elements in the innovation process.
In this high level and diverse panel-led session innovation actors speak about their experiences making change, and shifting to new paradigms. The key questions to be explored are:
What is innovation?
What is the process like?
How can it work for adaptation?
Is innovation really the answer or should we look to existing solutions?
Innovation entails risk and failure. Can we afford to fail?
Speakers
Andy Kerr, Climate-KIC
Nanko Madu, AfriLabs
Bill Wright, Enterprise Neurosystem
Rajiv Garg, Climate Technology Centre and Network (CTCN)
Biron Nicolas, Desjardins International Development (DID)
Edith Adera, AfDB, Africa adaptation acceleration program
Rita Effah, AfDB, Africa Climate Change Fund
Adaptation Fund hosts: Saliha Dobardzic, Marcus Johannesson
Facilitation: Eleanor Saunders
14:30 – 15:30 Session 4. Locally led innovation: What does it look like?
Session #4 Highlights: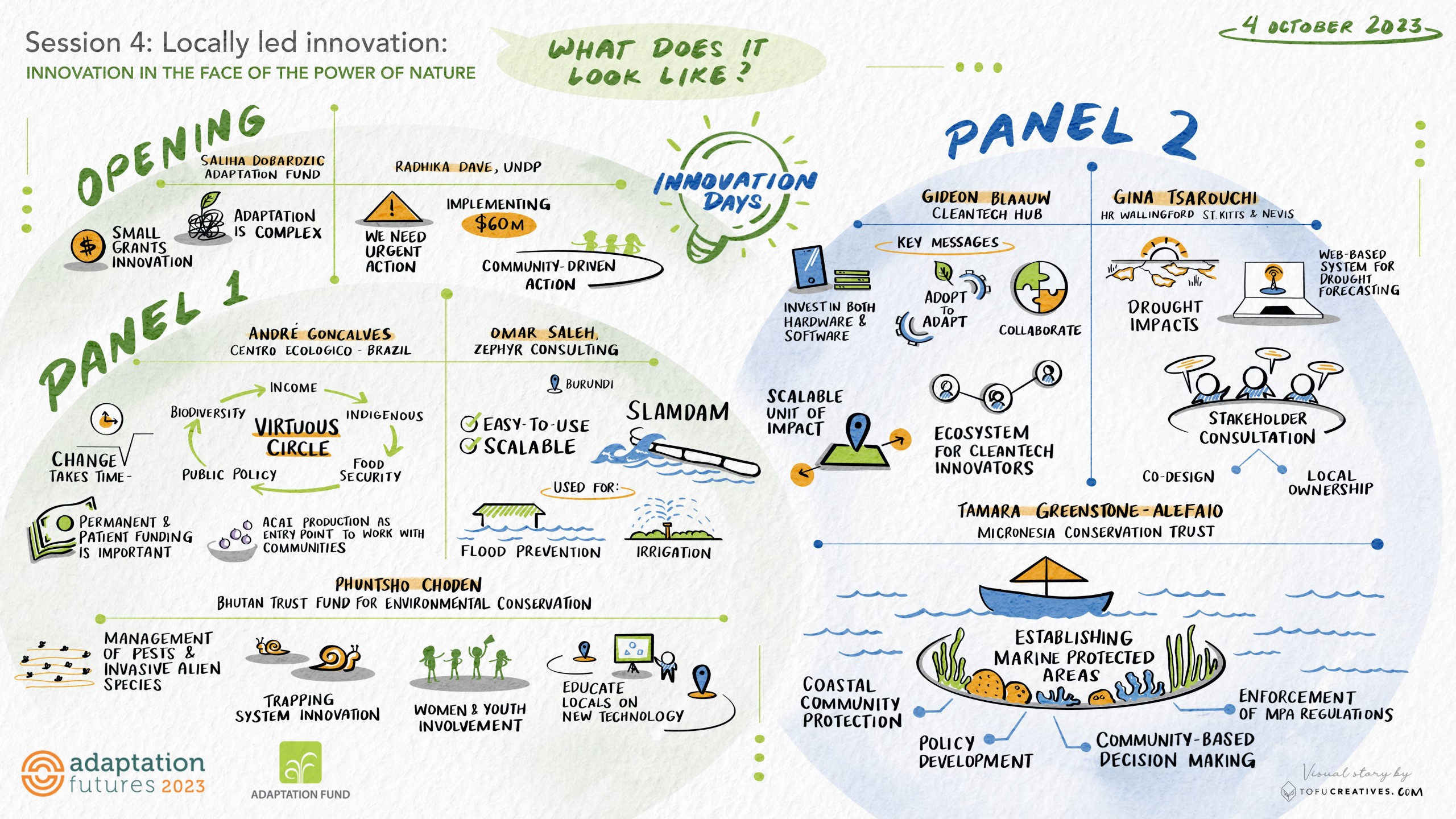 Session Recording available here.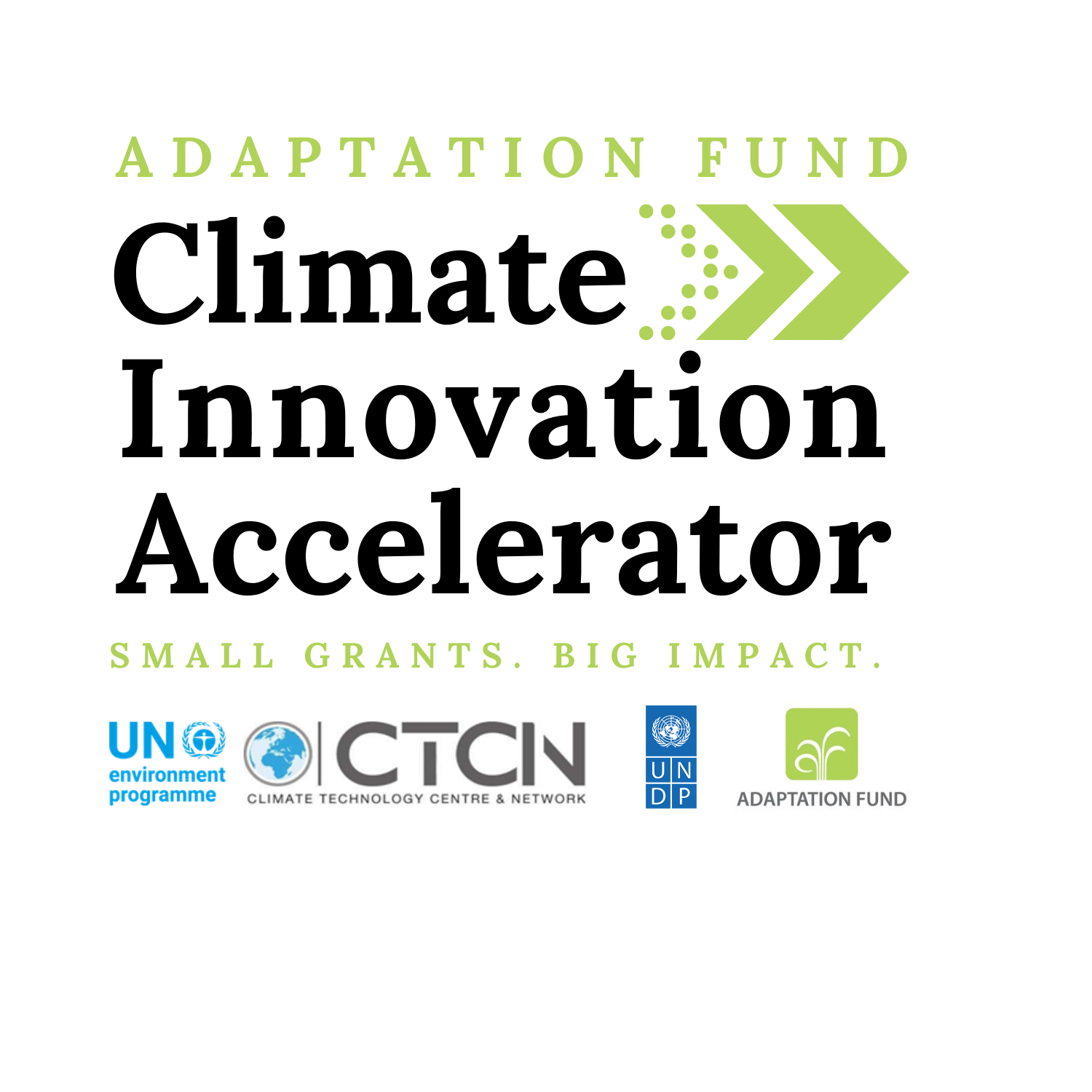 Adaptation in hyper local contexts through real-life stories of innovators.
Bringing voices from the Global South, to the forefront in pursue of climate justice, equity, diversity and inclusion. This session will bring forth the lessons directly from grantees of Adaptation Fund Climate Innovation Accelerator (AFCIA, a partnership of Adaptation Fund, EU, UNDP, UNEP and CTCN) who have the potential to demonstrate a breadth of Locally Led Adaptation (LLA) initiatives at different scales.
Two of the key LLA principles are the amplification of agency of the most vulnerable, and the role of patient funding in LLA Initiatives. This session will explore these two principles through the experience of the Adaptation Innovation Marketplace (AIM), specially through AFCIA grant makers and funders using knowledge exchange through a moderated dialogue between funders, grantees and audience members.
Key questions:
What is LLA and why is it such an important adaptation action?
What are the lessons, challenges and opportunities as experienced by the AFCIA grantees?
What are the models of finance for innovation in adaptation?
How can we continue to adapt and grow this success?
The session will be a facilitated two-way knowledge exchange session between funders of adaptation initiatives and their grantees in the panel, as well as the audience members.
Speakers
Omar Saleh, Zephyr Consulting, Burundi
Gina Tsarouchi, HR Wallingford's Flood and Water Management Group
André Luiz Gonçalves,  Instituto Federal Catarinense
Gideon Blaauw, CleantechHUB
Laode Syarif,  Kemitraan, Indonesia
Phuntsho Choden,  Bhutan Trust Fund for Environmental Conservation (BTFEC)
Tamara Alefaio Greenstone, Micronesia Conservation Trust (MCT)
Facilitation: David Gonzalez, the Global Resilience Partnership, Natalia da Luz, UNDP, Shuchi Vora, the Global resilience Partnership
Explore the other days.