Senegalese beaches are vulnerable to climate change, but an AF funded project has helped. (Photo: CSE/AF)
Direct Access: Accelerating the flow of climate funds
The Adaptation Fund's pioneering process of 'direct access' to funds for climate projects is helping over 30 vulnerable nations, from Costa Rica to Senegal.
Senegal's exposure to the Atlantic Ocean makes the west African nation particularly vulnerable to the impacts of climate change. However, over the last decade, the country, which is one of the smallest contributors to global emissions despite being among the most vulnerable to the impacts of climate change, has seen a number of adaptation and resilience efforts to tackle the growing problem.
In 2010, the Centre de Suivi Ecologique of Senegal (CSE) became the first of its kind to be accredited by the Adaptation Fund under Direct Access.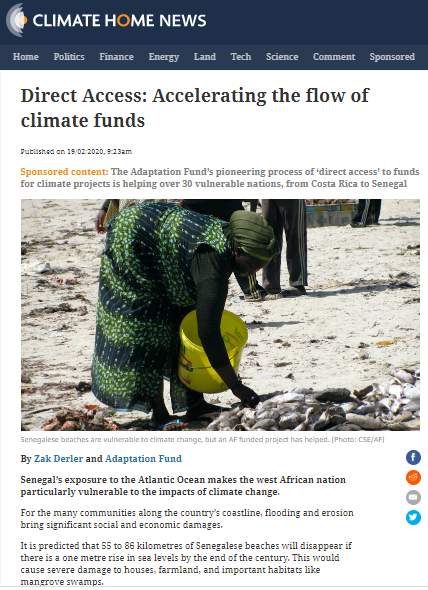 Through Direct Access, national institutions, known as National Implementing Entities (NIE's), are able to directly access climate finance for adaptation and resilience projects, as well as manage all aspects of a project's lifespan.
This empowers countries to build their national adaptive capacities, and fosters country ownership in addressing climate change.
Read the full story here.