A three-way integrated system was crucial in a project's approach to lessen the threat of water shortages. (Photo: Ashwa Faheem)
How three islands have inspired the Maldives to fight water shortages
Three islands in the Maldives, which faced water starvation, now serve as a model for securing supply across the archipelago.
The Maldives, which consists of 26 atolls southwest of Sri Lanka, is the lowest country in the world and its 1192 islands are composed mainly of coral reefs and sand bars. This combination makes for an abnormally shallow aquifer and therefore groundwater and freshwater are extremely scarce.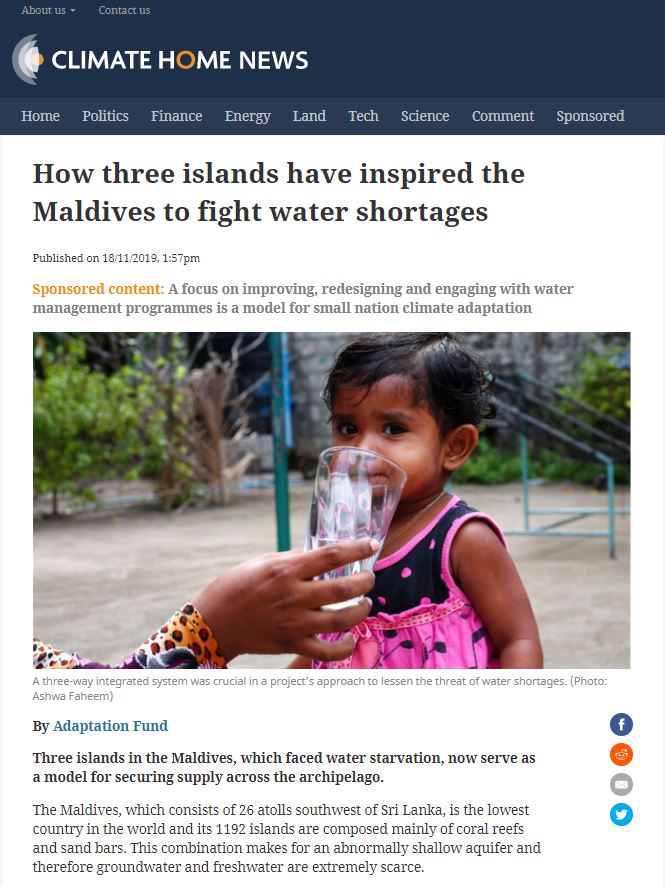 The situation in the region is only being exacerbated by increasingly variable and unpredictable rainfall and sea level rise, which has intensified the urgency of ongoing action on climate adaptation.
An integrated water resources management programme (IWRM), originally established by the Adaptation Fund, was piloted on the islands of Mahibadhoo, Ihavandhoo and Gadhdhoo. They were selected because they represented different geographical locations across the archipelago and shared a flat topography, sitting between 0 to 0.5 metres above sea level.
Working alongside the UN Development Programme (UNDP) and the Ministry of Environment and Energy in the Maldives, the Adaptation Fund provided $8.9 million for the project.
Read the full story here.