Children cross a key new bridge from the project with their families' livestock as trusty companions. (Photo: UN Development Programme)
[PROJECT STORY]: Adaptation Fund in the Republic of Tajikistan
Located in the heart of Central Asia, the Republic of Tajikistan (Tajikistan) is one of the most climate-vulnerable countries in this region. Rising temperatures and extreme climate events, such as floods and droughts, are resulting in damages to crops and increased rates of soil erosion, threatening the food, water and energy security of rural populations. The vulnerability is exacerbated by limited adaptive capacity because of the high dependence on agriculture for livelihoods as well as limited opportunities for alternative income. 
In a collaborative effort funded by the Adaptation Fund (AF) and implemented by Tajikistan's Government and the United Nations Development Programme (UNDP), rural communities have witnessed a resurgence through an innovative project using integrated landscape approaches to enhance climate resilience of small-scale farmers and pastoralists in Tajikistan. The initiative strategically confronts the socio-economic repercussions of climate change in the Kofirnighan River Basin (KRB) by introducing integrated landscape management to improve climate resilience of rural communities.
A primary challenge in the area was restricted pasture access and lack of connectivity between Chorbogh and Luchob jamoats (municipalities). Restoring a vital bridge became a key part of the project to overcome recurring challenges from the formidable currents of the Varzob River. These obstacles severely constrained livestock mobility, amplifying local hardships.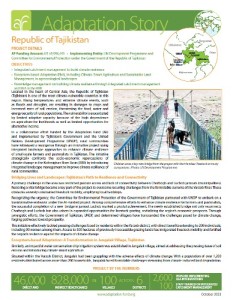 Recognizing the urgency, the Committee for Environmental Protection of the Government of Tajikistan partnered with UNDP to embark on a transformative endeavor under the AF-funded project. Among comprehensive efforts to enhance climate resilience for farmers and pastoralists, the successful completion of a new bridge in jamoat Luchob marked a pivotal achievement. The newly established bridge not only reconnects Chorbogh and Luchob but also ushers in expanded opportunities for livestock grazing, revitalizing the region's economic prospects. Through synergistic efforts, the Government of Tajikistan, UNDP, and determined villagers have transcended the challenges posed by climate change, forging pathways toward prosperity.
This initiative effectively tackled pressing challenges faced by residents within the Varzob district, with direct benefits extending to 200 individuals, including 90 women among them. Access to 500 hectares of previously inaccessible grazing lands has invigorated livestock mobility and fortified the region's resilience against the impacts of climate change. 
Read the full story here.
Attachments
| Attachment | Type | Size |
| --- | --- | --- |
| English | PDF | 2 MB |