The agricultural sector, regarded as the backbone of Uruguay's economy, has been affected by extreme meteorological events in the past decade, with devastating effects. Direct losses in the livestock sector caused by the 2008-2009 droughts were estimated at USD 342 million. The most vulnerable eco-regions to drought in Uruguay are the Basaltic Cuesta in the north and northwest and the East Hills in the southeast and east. The two regions, which when combined comprise 39 percent of Uruguay, are characterized by shallow soils with low water storage capacity. Around 15,500 livestock farmers, 85 percent of whom are "smallholders," are located in these two regions.
The project seeks to contribute to building national capacity to adapt to climate change and variability by focusing on the vulnerable smallholders in the livestock sector. Integrated livestock management measures, including better infrastructure for water and shadow, improved pasture management and biodiversity conservation, are at the core of the technical options to increase the resilience of small farmers to climate change. The project would finance a higher share of the investment costs for "transition" smallholders and would promote the establishment of recovery schemes at the local level involving grass root organizations.
Support would also consist of partial subsidies for investments and technical assistance and training. Smallholders and organizations are expected to be key players in identifying both, threats and resilient management practices at the landscape scale, allowing combination of traditional and scientific knowledge. They will be involved the development of a local network for climate change monitoring, awareness and response, which is another key component of the project.
The project will also finance studies, research and infrastructure to improve knowledge and information on climate change and variability. It will also create, exchange and systematize knowledge and experience among all public and private institutions that are currently working on climate change and variability to create an open forum where all institutions may share advances and coordinate actions.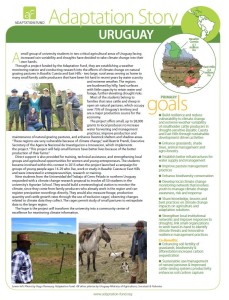 Learn more
| | |
| --- | --- |
| Component 1:  Resilience increase at the farm level in smallholders located in extremely drought-sensitive Landscape Units | USD 7,260,000 |
| Component 2: Development of a local network for climate change monitoring, awareness and response | USD 950,000 |
| Component 3: Knowledge management on climate change and variability | USD 780,000 |
| Project/Programme Execution Cost | USD 480,000 |
| Total Project/Programme Cost (= Project Component + Execution Costs) | 9,471,428 |
| Implementing Fee | USD 500,000 |
| Grant Amount (=Total Project/Programme Cost + Implementing Fee)   | USD 9,970,000  |
Note: The above numbers are according to the submitted project proposal. They are rounded up. The actual approved project amount is USD 9,967,678 including USD 496,250 of the Implementing Fee.
Project Documents