UNDP, May 21, 2020
Powerful women face the climate crisis head on in Colombia
The effects of climate change on La Mojana are severe. The income of its inhabitants is affected by the loss of crops as well as by large-scale changes to their ecosystems, which translate into increased flood risks and prolonged periods of drought that are putting the lives and livelihoods of smallholder farmers at risk. These pressures induced by climate change are weakening the already threatened water sources in the region, according to information from the Government of Colombia, affecting both the supply and quality of water that communities need to drink and water crops.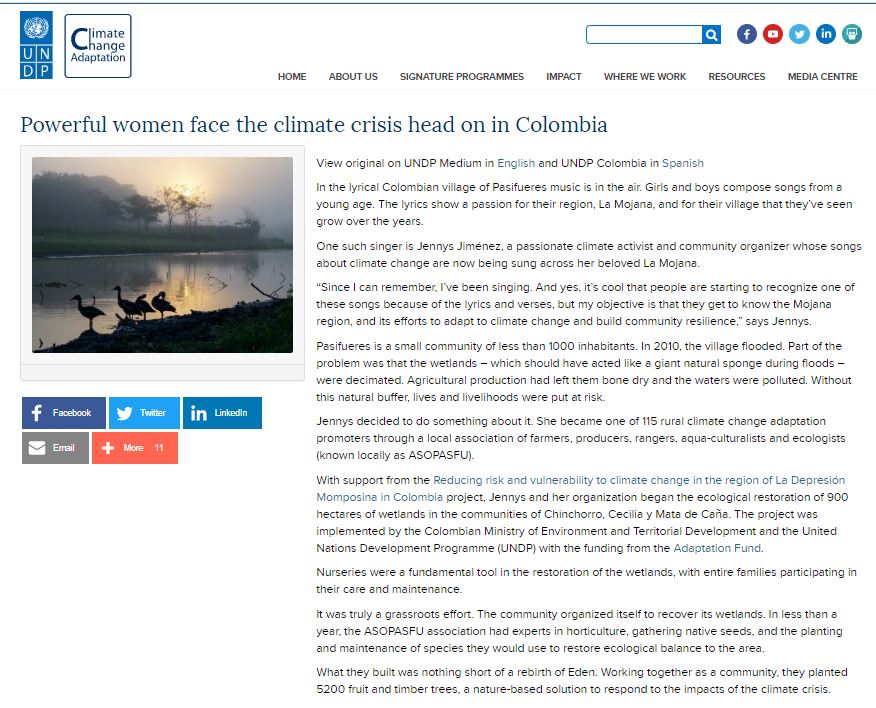 With support from the Reducing risk and vulnerability to climate change in the region of La Depresión Momposina in Colombia project, women began the ecological restoration of wetlands. The project was implemented by the Colombian Ministry of Environment and Territorial Development and the United Nations Development Programme (UNDP) with the funding from the Adaptation Fund.
In all, 3901 women from 44 communities in the area participated in the implementation of the project, which restored 900 hectares of wetlands and recovered 40.3 kilometers of canals, benefitting a total of 15,928 people.
Read the full story.