Sweden
Strong Supporter of the Adaptation Fund
The Swedish Government believes that climate change is the defining issue of our time, and that it poses a serious threat that risks undermining decades of development progress around the world. The Government has made it a top priority to combat climate change, and climate adaptation is a key issue in the current policy framework for Swedish development cooperation and humanitarian aid adopted in 2016.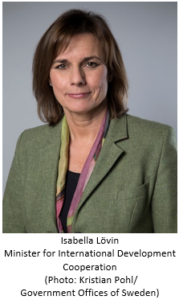 Climate change adaptation has however been high on the agenda in Swedish international development cooperation for a long time. Sweden has been a strong supporter and active member of the Board of the Adaptation Fund since its inception.
Since the adoption of the Paris Agreement the Swedish Government has further increased its efforts and its international climate finance. Today, Sweden is the largest per capita donor and second largest donor in absolute terms to the Adaptation Fund. The Government believes that the Adaptation Fund plays an important role in the international climate finance architecture by enabling vulnerable developing countries to gain access to small scale adaptation finance and by spearheading the direct access modality. This has contributed to building institutional capacity and country ownership – crucial components to overcome bottle-necks and build resilience against climate change. There is also great potential for other funds, such as the Green Climate Fund, to build upon the experience of the Adaptation Fund and scale up efforts made in order to build complementarity and coherence.
The Swedish Government is also a feminist Government that attaches great importance to gender issues. Gender equality is key to have durable and effective interventions that can contribute to sustainable development. The Government is therefore pleased that the Adaptation Fund has adopted a gender policy and action plan to further enhance its systematic efforts to mainstream gender into project design and implementation.
This information has been provided by the Government of Sweden.
Contributions to the Adaptation Fund
| Contribution Effective Date | Total Contributions (US$) |
| --- | --- |
| November 2010 | 14,630,000 |
| December 2011 | 14,530,000 |
| November 2012 | 15,040,000 |
| June 2013 | 15,180,000 |
| October 2016 | 21,550,000 |
| February 2017 | 5,560,000 |
| November 2017 | 11,950,000 |
| February 2018 | 10,100,000 |
| November 2018 | 5,470,000 |
| October 2019 | 28,190,000 |
| October 2022 | 4,840,000 |
|  Grand Total | 173,740,000 |
Related News & Articles